✅Clinically Proven ✅Cruelty Free
Regular price
Sale price
$24.97
Unit price
per
Sale
Sold out
To brighten dull complexion and remove freckles on your face, use our BaiSerena SkinWhitening AntiFreckles EssentialOil while balancing the skin's moisture.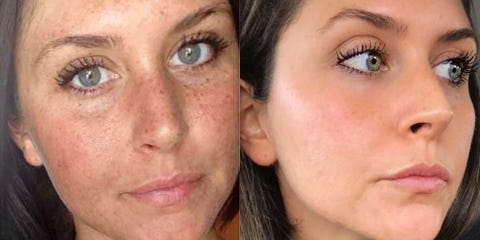 "I have lupus and it has caused dark spots. One above my lip makes me very self-conscious. I got this to get rid of that spot. I have tried other creams that never work. I was skeptical about this one but thought why not. I put it on morning and night. After a few days I saw a big difference. Very little goes a long way and it's a big jar. I'm very happy. Now 3 weeks later the spot is getting smaller and smaller and it's actually working. I've had no bad reactions and it actually does what it says. I highly recommend" - Odette Stephenson, 31, Richmond, Virginia
"My son gets sunburned very easily. Once he burns, he gets freckles really bad. As a teenage boy you can imagine what that does to his self-confidence. Anyway, he forgot sunscreen recently and got burned and sure enough here came a face full of freckles. So ordered this product for him and we are definitely seeing an improvement in the freckles disappearing. It's been so helpful! My skin has become even and moisturized. My complexion has become significantly brighter too!" - Fasciae Kelly, 42, Los Angeles, California
The

 

BaiSerena SkinWhitening AntiFreckles EssentialOil's

 

Blend of Actives & Moisturizing Ingredients:
Our BaiSerena SkinWhitening AntiFreckles EssentialOil Formulated with various natural extracts and essential oils, our Dark Spot Corrector is the perfect Skin Hyperpigmentation Treatment for your face. It is designed to treat Sun Spots, Face Melasma, Pregnancy Freckles, and Freckles (everything except age spots).
3-o-ethyl ascorbic acid: is a potent skin brightening ingredient. Being a powerful antioxidant, it defends against environmental stressors. It is also known to reduce the signs of aging as it boosts collagen production, making the skin plumper and smoother.
Rose Flower Oil: includes high levels of vitamins A, B1, B2, B3, and K, which help to repair and mend skin cells. Rose essential oil has been shown in studies to significantly increase the moisture level and flexibility of the skin by increasing collagen formation. Rose Oil also helps with wrinkles and fine lines on the face.
Lavender Oil: Topical application of lavender oil can improve blood circulation. Mean more oxygen and nutrients are brought to the skin which makes your skin healthy. Skin brightening property of lavender essential oil help to lighten the appearance of dark spots, age spots and improve your skin complexion.
The BaiSerena SkinWhitening AntiFreckles EssentialOil works by allowing this powerful blend of active ingredients to penetrate the epidermis, moisturizing, repairing, and adjusting the radiance of the skin from the deeper layers. The cream targets the spots and discoloration, leaving you with a bright, even toned, and glowing complexion.
Benefits of the
 

BaiSerena SkinWhitening AntiFreckles EssentialOil:
Nourish & restore your skin
Prevent Hyperpigmentation & Age Spots
Promote circulation & skin rejuvenation
Protects the skin from aging caused by toxins
Restores and replenishes dull complexions for more revitalized
Gently lighten and remove dark spots, revealing brighter skin
Helps restore skin's firmness and texture
Repairs environmentally damaged skin
Protects against future damage
Caitlin's 7 days experience with the BaiSerena SkinWhitening AntiFreckles EssentialOil
DAY 1
"Having too much practice in the field for cheer dance got me having so much dark spots on my skin but I already seen some improvement in my dark spots which it was lighten a little but it is already a positive result in just 1 day of using this dark spot cream. I've got a pigmentation on my elbow; I hope it will lighten it more."
DAY 5
"It's been 5 days of using this cream and I've been using this twice a day! There's a big improvement in my dark spots which it was lighten more than what I have for the 3rd day! I have a hyper pigmentation on my elbow and it give such reduce the darkness of it in just 5 days."
DAY 7
"This product really works in just 7 days of using this! Continuously using this in 7 days really helps me to remove all the dark spots I have on my skin! So miraculous! The hyperpigmentation on my elbow has been remove in just 7 days of using this cream! I was really shocked and all I can say is "Thanks to this product!"."
HOW TO USE:
Wash and clean the skin area before you apply the EssentialOil.

Take the appropriate amount of EssentialOil and evenly apply a thin layer on the skin or spots areas.

Massage in circular motions and let it fully absorb by the skin.

Use it daily for best results.
Product specification:
1 x BaiSerena SkinWhitening AntiFreckles EssentialOil : 30ml
View full details
Worldwide Shipping

7/24 Support