✅Clinically Proven ✅Cruelty Free
Regular price
Sale price
$22.97
Unit price
per
Sale
Sold out
MENSkin AntiAging Tightening EyeCream was clinically proven visibly lifts up eyes and remove dark circles in just 8 weeks!

"Was scared to try something new, especially since I have under-eye bags and hard-to-find caffeine cream for them! I can't use anything with Hyaluronic acid it makes them more puff and this cream is awesome! It's moisturizing and removed puffs completely but not for brightening under the eye"—Fernando Roberto— 34, Brooklyn, New York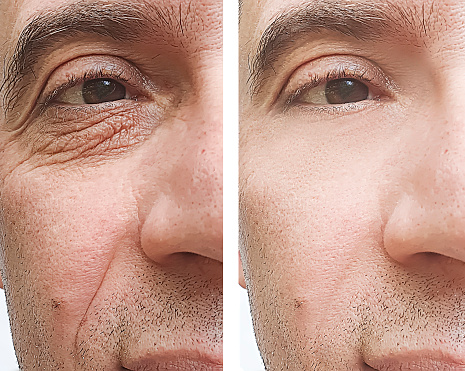 "I am in love with this eye cream. I don't have puffiness under my eyes but I do get a little dark under there because I have kids that don't always like to sleep. The product goes on smoothly and definitely, helps me look less tired! If you are wanting something to brighten your eyes a bit without using anything to hide it, I would give this product a try!"—Estevan Martins— 55, Dallas, Texas
What is the actual cause of dark circles & bags under the eyes?
Dehydration is a common cause of dark circles under your eyes. When your body is not well hydrated, the skin beneath your eyes begins to look dull and your eyes look sunken. This is due to the eyes' close proximity to the underlying bone. Aging, genetics, fatigue, and more can all cause dark circles under your eyes. But they usually aren't a sign of a medical problem. While they aren't typically a cause for concern, you may want to lighten their appearance for cosmetic reasons.
Bags under the eyes are caused when the tissue structures and muscles supporting your eyelids weaken. The skin may start to sag, and fat that's usually around the eye can move into the area below your eyes. Also, the space below your eyes can gather fluid, making the area look puffy or swollen
Consist of 2 Key Ingredients for Reduce Under-Eye Bags, Dark Circles:
Kojic Acid - Reduce Dark Circles
Sodium Hyaluronate – Deeply hydrate and plump skin
Kojic acid naturally derived substance. In small doses, arbutin can improve the appearance of dark circles under the eyes, but high concentrations can cause hyperpigmentation. For dark circles under the eyes caused by an overproduction of melanin, kojic acid can help. As a tyrosinase inhibitor, Kojic Acid may effectively stunt your body's natural melanin production. Aesthetically this means it appears to even skin tone and fades dark spots.
Sodium hyaluronate is a humectant, which means that it attracts moisture. People can use it topically in creams and serums to hydrate the skin. Also, the Food and Drug Administration (FDA) has approved sodium hyaluronate for use as a dermal filler. Sodium Hyaluronate Hyaluronic acid is a humectant, or water-holding molecule, that helps keep skin plump and hydrated. Sodium hyaluronate is the sodium salt of hyaluronic acid (HA). It can hold many times its weight in water.
Our MENSkin AntiAging Tightening EyeCream instantly awakens and refreshes the appearance of tired, puffy eyes. The potent blend of anti-aging ingredients Kojic acid and Sodium Hyaluronate tightens and firms the appearance of skin around the eyes for a more youthful and radiant look.
What makes MENSkin AntiAging Tightening EyeCream Special?
Reducing fine lines and wrinkles
Reducing appearance of dark circles and surrounding puffiness
Giving the skin a more youthful look
Reduce under-eye bags and dark circles
Leaving your skin plumper, smoother and firmer
Naturally stimulating collagen and elastin production in the skin
Effectively prevents, stops, and reverses signs of aging
David's 3 weeks Eyes-Depuff Report:
"I'm old and have extremely sensitive skin; I've been using this MENSkin AntiAging Tightening EyeCream for a week and have noticed a significant difference; I appear younger and less tired, and my face has a glow to it, and my under eye has become healthy."
"I've been using it for about 2 weeks and my skin has definitely improved. My wrinkles are visibly reduced, and my face appears to be well moisturized. I used it at night before I go to sleep and I wake up with a smile. I am 40 years old and whatever makes me look younger I adore. This is a keeper! Say goodbye to wrinkles."
"My skin has altered substantially in appearance and feels wonderful! Goodbye, deep wrinkles and panda eyes; I look a lot younger. Results are great, I regret not taking a from the early days but wow I am buying this MENSkin AntiAging Tightening EyeCream!"
Package Includes :
MENSkin AntiAging Tightening EyeCream x 1 / 2 / 4 / 8pcs
View full details
Worldwide Shipping

7/24 Support