✅Clinically Proven ✅Cruelty Free
Regular price
Sale price
$24.97
Unit price
per
Sale
Sold out
REGAIN A FULL NIGHT'S REST WITH RAPIDFIX EYE FATGRANULES REMOVAL HERBAL CREAM. 
"I used to have really bad eye bags but I was surprised with the effects of RapidFIX Eye FatGranules Removal HerbalCream. My eyebags slowly brightened and the skin around my eyes became even in just three weeks! The fact that this product is cruelty free is a plus! It's safe, animal-friendly, and effective. This is a thumbs up for me!""—Priscilla Thompson— 32, Seattle, Washington
"I'm always tired. I barely get any rest. My skin looks dry and I look older than my age. I have fine lines, dry skin and eye bags. Good thing I RapidFIX Eye FatGranules Removal HerbalCream! My eyebags are a thing of the past and now my skin looks and feels more hydrated than ever. This is a product everyone should have!""—Leila Swift—28, Phoenix, Arizona
What is a fat granule?
Fat granule, also known as milia, forms as a small, usually white bump on your skin, and they often appear under eyes. These bumps are tiny keratin filled cysts (do not be alarmed, cyst just means it contains a liquid) blocked by skin cells or other materials.
What are the types of fat granules?
There are two types: mature granules and immature granules.
The mature type is very recognizable as it is a white, round, prominent bump in the skin that can feel tough.
The immature is not fully formed yet so can be smaller and simpler to treat, but harder to catch.
Keep in mind that if a fat granule form in your eye, instead of around or under it, it is best to leave it to beauty salons and hospitals to treat it as it is easy to leave scars and cause other issues when trying to treat fat granules inside the eye.
Consist of 4 key ingredients to remove fat granules:
Portulaca Oleracea:

 

is a popular South Korean remedy for skin irritation. It is used in cosmetics because of its powerful anti-inflammatory properties and is rich in antioxidants. Propylene Glycol has moisturizing and moisture absorbing properties, making it a popular ingredient in cosmetics.
Sorbitan Olivate: it is esterified with a natural sugar called sorbitol. Benefits: it is particularly soft and compatible with the skin. It reduces hydration loss and is used in different products for skincare, as well as in makeup. It is a good alternative as a hypoallergenic and biocompatible emulsifier.
Propylene Glycol: is a humectant, which means that it is an ingredient that is added to cosmetics to increase moisture retention in skin and hair. Propylene glycol is well tolerated by the skin and shouldn't cause redness or irritation. Due to its moisturizing properties, propylene glycol nourishes the skin, helping to lessen the appearance of marks and spots.
Cetyl Tetrapeptide: helps visibly restore skin's natural support, including a specialized protein known as lumican, which helps keep skin smooth and taut. Tetrapeptide is a synthetic peptide containing the amino acids proline, glutamic acid, and lysine. It acts on and within specific targets of skin to reduce factors and interrupt the pathways that lead to the appearance of discolorations and uneven skin tone. 
HOW DOES

 

RAPIDFIX EYE FATGRANULES REMOVAL HERBAL CREAM

 

WORKS?
It promotes the blood's microcirculation, which is weak in this area of the face, and reaches dark circles and bags under the eyes that make you look tired. The

 

RapidFIX Eye FatGranules Removal HerbalCream

 

works wonders for the under-eye area, keeping the skin around your eyes hydrated and moisturized. This product gives eyes complete anti-aging moisturizing protection all day and night. Addresses the most common frustrations associated with aging skin around the eyes (dark circles, puffiness, loss of firmness, sagging skin, wrinkles, crow's feet, and dryness).
RapidFIX Eye FatGranules Removal HerbalCream was proven to:
Helps lock in moisture around delicate eye area
Nourish & restore your skin
Boost Collagen & Blood Flow to revive & replenish
Restoring Radiance & Elasticity
Anti-inflammatory properties plump & smooth
Prevent Hyperpigmentation & Age Spots
Promote circulation & skin rejuvenation
Youthfully radiant under eyes
Deeply moisturizes while making you look immediately ageless
Plump with elasticity boosting Hydrolyzed Collagen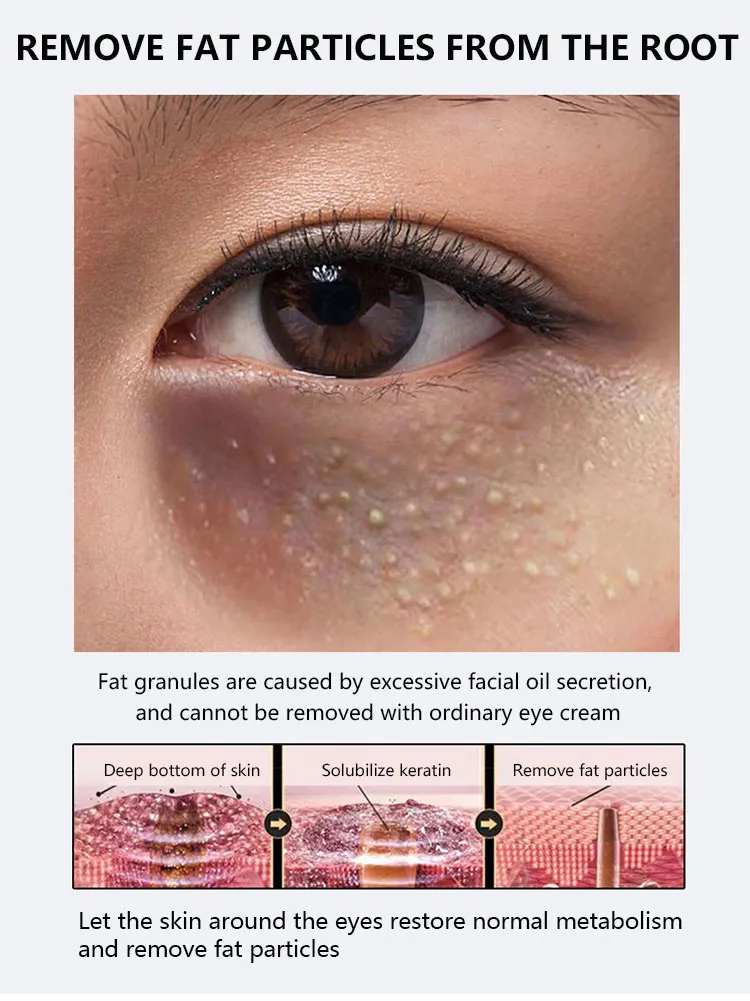 Hailey's 14 days of using RapidFIX Eye FatGranules Removal HerbalCream :
Hailey decided to buy this product so the dark circles around her eyes will be gone and to remove its puffiness. She's been researching for a product which is FDA approve with high effective product with impressive result and to make the skin look healthy.
Day 1
"I've been so stress always at work, sometimes my boss always asked me to do overtime just to finish some extra work. That's how I got dark circles and the puffiness around my eyes. Then I discover this product which really effective. In just a day it already gives me a surprising improvement around my eyes."
Day 7
"In just 7 days, it already lightens the darkness around my eyes and it even start to tighten the skin around my eyes. I'm so happy to with the result in just a week!"
Day 14
"For only 14 days of using this product my eyes finally look so young, no more darkness and puffiness! I don't even need to use concealers just to hide it. I love how my skin around my eyes transform!"
View full details
Worldwide Shipping

7/24 Support